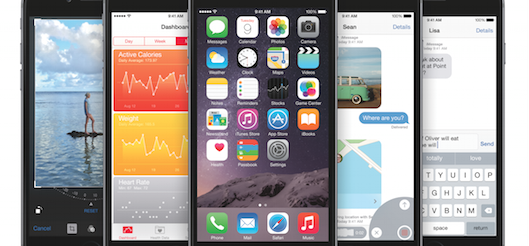 It's a cliche, but Christmas seemed to come early for Apple lovers as Tuesday's much-anticipated press event featured no shortage of announcements, the biggest of which could arguably be the iPhone 6. And while the new model — with its larger screens — got the majority of the love both before and after the event, Apple wasn't holding back when it came to showcasing a variety of products.
Getting a little less press than the phones and the new Apple watch, the company's new operating system, iOS 8 is just as big a deal as anything else.
iOS8Rolling out next week, iOS 8 will deliver a simpler, faster and more intuitive experience for users of iPhones, iPads and iPods. The new system features everything from a new message system to a new health app with the ability to customize the system more than any other before it.
During Tuesday's announcement, Apple senior vice-president of software engineering, Craig Federighi, said while users are sure to benefit from the system, others should find the enhancements exciting, too.
"iOS 8 also creates an extraordinary environment for developers, providing them the ability to create amazing new apps like never before," he stated in a release.
With more than 4,000 new APIs, iOS 8 SDK gives developers the ability to create new apps like never before. The SDK delivers major iOS extensions, including sharing options, widgets, custom actions and document APIs. Touch ID™ APIs enable developers to securely authenticate users within apps.
The system will be available for downloading next Wednesday.
article source
Smartphones
Translate: