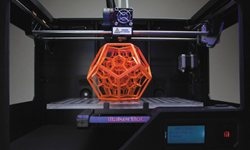 3D printing is disrupting traditional manufacturing and may be the catalyst for the next industrial revolution. It's moving beyond making prototypes, molds and tooling into the customization of end-use parts for applications ranging from aerospace, medical, automotive, consumer products, architecture and electronics.
McKinsey estimates that the 3D printing industry could generate between $230 billion and $550 billion by 2025. Companies like 3D Systems, GE, Shapeways and Stratasys are making major bets on this manufacturing transformation that holds the potential to stimulate job growth with economic spillover effects in design, research and development, the supply chain and entrepreneurship.
Shapeways, an online service provider for personalized 3D printed products, has created more than 100 jobs in the last two years and helped fuel the birth of many new small businesses. Shapeways makes it possible for anyone—from designers to niche 3D modelers—to start a business.
Experts predict that the consumer market will account for 60 percent of the total estimated 3D printing market. 3D printing entrepreneurs have a huge opportunity to create thriving, sustainable businesses. In addition to toys, furniture and other applications, jewelry is an example of how 3D is disrupting a consumer sector.
CEA innovation
3D
Translate: